What Is God growing in you these days?
– Feeling lost in a "big church" and longing fellowship that's more like family? Our family will embrace you…
– Looking for a place to deepen your faith in God? You'll be in good company…
– Wanting to participate in practical Kingdom activities? Come serve alongside of us in local neighborhoods
Here is what's on at First Alliance Church:
***Click a link below for a further description of an event.***
November 28 – December 1, Tuesday – Friday
8:30am-11:30am The Bridge Cafe open Tuesday through Friday
November 30, Thursday
9:30am-10:30am Senior Breakfast

December 2, Saturday
8:00am Men's B,B, & B Meeting
December 3, Sunday
9:00am – 10:00am Adult Bible Studies
10:00am – 10:30am Fellowship-Coffee available
10:30am – 11:30am Sunday Service
Below: New events in December:
December 5, Tuesday
6:00pm – 8:00pm: First Alliance Christmas Party

December 7, Thursday
6:00pm: Live Oaks Christmas Party at FAC Raleigh Church
December 9, Saturday
10:00am – 12:00 noon Grief Share – Surviving the Holidays

December 13, Wednesday
9:30 – 11:30 Morning Card Games at the Bridge – 3rd Wednesday of the month
December 24, Sunday
6:00pm – 7:00pm: Christmas Eve Candlelight Service
January 9, 2024 – Tuesday
7:00pm – 8:00pm The Prodigal God – Bible Study – Videos with Pastor Dan Rothra
7:00pm – 8:00pm January Book Club – All in the Day's Work-open to all
Future Events for November – December (CLICK LINK):
FAC Christmas Party on Tuesday, December 5th
SAVE THE DATE!! First Alliance is having a Christmas party on Tuesday, December 5th at 6:00 pm and you're invited! Please sign up (if possible) by Dec 3rd, in the church foyer so we can plan for numbers. Dinner costs $4 (but not required) and will feature ham, scalloped potatoes, vegetables, rolls and a dessert. (If you could help cook or serve please talk to Pastor Dan.) We'll have some games too, and share the Christmas story in a program running from 6:00 pm – 8:00 pm.
Live Oaks Christmas Party!
December 7th at FAC Church
Live Oaks is a seniors group organized by our daughter church, North Ridge Alliance, but which many FAC members enjoy taking part in. This year a combined Christmas party for seniors is planned for Thursday Dec 7th at 6:00 PM and will be held at FAC, as we did last year. Cost is $20 per person.

We are blessed to have Dean Drummond bring us a Christmas music program. Dean will also lead us in a couple of Christmas carols as we end the evening with joyous melodies accompanied by Lynda Milam on the piano. Our dinner will be catered by Outback and includes grilled chicken on the barbie, mashed potatoes, seasoned vegetables, salad, dessert, tea, and coffee. The menu will be gluten-free, as well as some of the desserts.
Sign-up sheet is in the foyer. The deadline is Sunday Dec 3rd. For $20 payment, if by check, make it payable to Glenn Ervin. If cash, please put it in an envelope labeled Live Oaks with your name and give it to Ruby Burke by December 3rd. There is no online registration or payment available.
The Bridge Cafe Coffee Shop
WINTER HOURS:
Tuesdays-Fridays 8:30 – 11:30 AM

The Bridge Cafe (at entrance to First Alliance Church) has great bottomless coffee and homebaked treats. New programs also include from May 2, 2023: TUESDAYS 6-6:30 PM – "Come to the Table" Soup or Salad Entree Supper ($4 suggested donation – not required) – followed by 7-8 PM Bible Study Workshop and Book Club. All are welcome!
Morning Card Games at The Bridge
-Third Wednesday of the Month:
December 13th
Do you enjoy playing card games? Ever heard of "Hand and Foot"? That's only one of many card games our card guru Vicki Strayer is prepared to teach anyone who wants to drop in to the Bridge Cafe on Wednesday Dec. 13th from 9:30 a.m. to 11:30 a.m. (Don't worry, you don't have to play that one with your feet…)
All are welcome to join friends or meet new ones at this card playing event. For more information contact Vicki Strayer at 919-523-6218 or email [email protected]
The Bridge Cafe is located at the entrance to First Alliance Church at 4400 Buffaloe Rd, Raleigh, NC
January-February 2024 Book Club:
All in the Day's Work – Autobiography of Ida Tarbell
You're invited to join our January-February Bookclub! Meeting at the Bridge Café (4400 Buffaloe Rd, Raleigh) on Tuesday evenings 7-8 pm, January 9th, 16th, 23rd, & 30th, and February 6th and 13th. Get started by reading "All in the Day's Work" – An Autobiography by Ida M. Tarbell (407 pages) We will discuss one sixth of the book at each of the 6 sessions, so if you prefer to "read along" during January – February, that is fine too. For more information, speak with Marty Poehler 919-606-2169 or email [email protected]. We don't have book kits, but you can access a free copy online (see details at bottom of this post) or purchase your own copy of the book.
Amazon Review:
In this frank and informative autobiography, the veteran investigative journalist Ida M. Tarbell looks back on her nearly fifty-year career. At the age of eighty-two, one of the original muckrakers writes with her characteristic candor about a life spent defying categories and challenging complacency.
Tarbell was the only woman in her class of forty students at Allegheny College, and upon graduation she began an internship at The Chautauquan, which was the start of a lifelong immersion in the world of journalism. She further honed her skills during a three-year stint in Paris, but the breakthrough came in
1894 when she was hired as a full-time writer for McClure's Magazine.
It was at McClure's–where, again, she was the only woman on staff–that Tarbell made her name as a determined journalist, one of the fearless brigades of truth-seekers famously chastised by Theodore Roosevelt, who coined the term 'muckraker' in order to discredit those who attacked senators in print. Tarbell wrote serialized biographies of Napoleon and Abraham Lincoln, as well as a landmark series of articles on Standard Oil and John D. Rockefeller.
In All in the Day's Work, Tarbell turns her keen eye on herself, recalling the events of her fascinating life with the same honesty, verve, and scrupulous accuracy she brought to her journalistic work, offering insight along the way into the people, places, and issues of her time.
This book is not available in Book Kit form, BUT:
The book is available to:
Download or read online in E form, or download on a Kindle: https://www.gutenberg.org/ebooks/63754
Print from the Internet: https://www.gutenberg.org/ebooks/63754
Listen to in audio format online:
https://librivox.org/all-in-the-days-work-by-ida-tarbell/
Download in audio format:
https://librivox.org/all-in-the-days-work-by-ida-tarbell/
Buy at Amazon, used, for from $7 upwards .
The Prodigal God
New Workshop for January 2024!
Come join us for a new workshop in January at the Bridge Café (entrance to First Alliance Church) led by Pastor Dan Rothra. Meeting for the four Tuesdays in January from 7-8 pm.
Discover the amazing depths of God's extravagant love.
In this small group Bible study, pastor and bestselling author Timothy Keller uses one of Jesus' best-loved parables- the Prodigal Son- to illustrate the depth of God's love and how his grace extends into some very unexpected places.
Taking you beyond the traditional focus on the wayward younger son, Keller helps you glean insights from each of the characters in Jesus' parable: the irreligious younger son, the moralistic elder son, and the Father who lavishes his love on both. Inside this guide, you'll explore questions from group discussion and personal reflection, and exercises that will help you experience the truths of Jesus' parable in your own life. The gospel is neither religion nor irreligion, but something else entirely. Whether you're a devout believer or a skeptic, The Prodigal God will challenge you to see Christianity in a whole new way.
For more information contact Pastor Dan Rothra: (919-606-3285) [email protected]
Community Center
Kids Clothes (infant to pre-K) – Inside The Bridge Cafe.
Food Pantry (at Bridge Cafe at First Alliance Church – parking lot.)
Supportive environment.
Opportunities to participate.
Book reading groups.
Music jam sessions.
Collaborative ventures.
Mens "Breakfast, Bible, and Bonding" Meeting
All men are invited to our WEEKLY Men's "B,B & B" meeting (Bible, Breakfast & Bonding) every Saturday from 8:00 -9:30 a.m. at the Bridge Cafe (entrance to First Alliance Church.) Bring your own breakfast sandwich — and coffee and orange juice are provided. We're studying the Epistles of John. For more information contact Walker Armistead 919 – 812 – 2528 or William Stone [email protected] Hope to see you there!
Senior Special Breakfast
Thursdays 9:30 – 10:30 AM
AT THE BRIDGE CAFE
If you live near Buffaloe Road and are a Senior (or even if you're not) why not stop into the Bridge Cafe (at entrance to First Alliance Church at 4400 Buffaloe Road, Raleigh) for our Breakfast Meal for only $4 – every Thursday from 9:30 – 10:30 a.m. (The Cafe is open from 8:30 – 11:30 a.m.) Great bottomless coffee too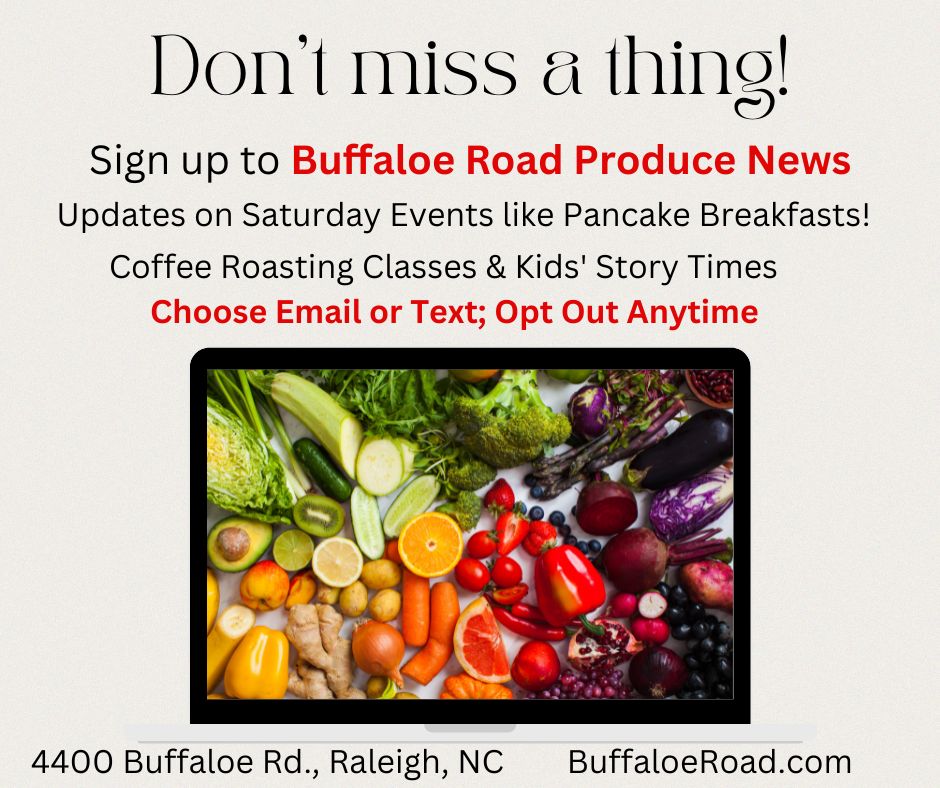 April 2024 – Sign up for reminders for BUFFALOE ROAD PRODUCE NEWS
For April 2024 – Sign up for BUFFALOE ROAD PRODUCE NEWS – for weekly updates by email or text. Opt out anytime.
Get the scoop on limited produce options and special features, for Buffaloe Road Produce (starting again April 2024).
Know when we're open or closed – before you drive by!
Learn about interesting Saturday opportunities like: Pancake Breakfast; Coffee Roasting Classes; Kid's Story Time.
In My Own Words:
This congregation amazes me with it's gracious service and mutual support. They don't just talk about loving, they work out their faith in real life. We are poised to demonstrate God's love to neighborhoods around us. I'm proud to walk in community with people who authentically want to discover how following Jesus impacts our families, friends and co-workers!

Dan Rothra
Pastor, First Alliance Church
Phone: 919-606-3285
Email: [email protected]
Where are We?
4400 Buffaloe Road, Raleigh, NC 27616
Phone: 919-850-0698
email: [email protected]
We would like to thank e-Signs for their generous help with our signs at FAC Church! Visit them at https://www.esigns.com