What Is God growing in you these days?
– Feeling lost in a "big church" and longing fellowship that's more like family? Our family will embrace you…
– Looking for a place to deepen your faith in God? You'll be in good company…
– Wanting to participate in practical Kingdom activities? Come serve along side of us in local neighborhoods
Here is what's on at First Alliance Church:
***Click a link below for a further description of an event.***
May 30, Tuesday
6:00pm – 6:30pm Come to the Table Soup Dinner No Dinner tonight. Next Dinner is Tuesday, June 6.
June 1, Thursday
9:30am-10:30am Senior Breakfast
June 3, Saturday
8:00am Men's B,B and B Meeting
8:00am – 12:00pm Produce
9:00am – 11:00am Community Pancake Breakfast
June 4, Sunday
9:00am – 10:00am Adult Bible Studies
10:00am – 10:30am Fellowship-Coffee available
10:30am – 11:30am Sunday Service
June 6, Tuesday
6:00pm – 6:30pm Come to the Table Soup or Salad Entree Dinner
7:00pm – 8:00pm Senior Care Seminar
7:00pm – 8:00pm Poetry Please Workshop
June 11, Sunday
6:00pm – 7:00pm Community Worship Service
June 20, Tuesday
10:00am – 11:00am Card Making Workshop
7:00pm – 8:00pm Card Making Workshop
July 11, Tuesday
7:00pm – 8:00pm Boys in the Boat – Bookclub
Community Pancake Breakfast at The Bridge on June 3rd
Join us for a Community Pancake Breakfast on Saturday, June 3rd 9:00 – 11:00 a.m. at the Bridge Café (entrance to First Alliance Church on 4400 Buffaloe Rd, Raleigh, NC) – Delicious pancakes with fruit will be served –with proceeds to support our community produce offerings and teen helpers. Sit, eat and donate the value of your meal. Hope to see you there!
Produce open again Saturdays on
Buffaloe Road !
It's spring and the popular Buffaloe Road Produce Event has started up again! We're open Saturdays from 8:00 AM to 12:00 PM. Come shop for fresh fruits and vegetables at reasonable prices (average $1 per pound) and meet your neighbors. We'll be here every Saturday until the Fall, so why not stop in? The Bridge Cafe is open for coffee and treats. Find us at the entrance to First Alliance Church on 4400 Buffaloe Road, Raleigh, NC.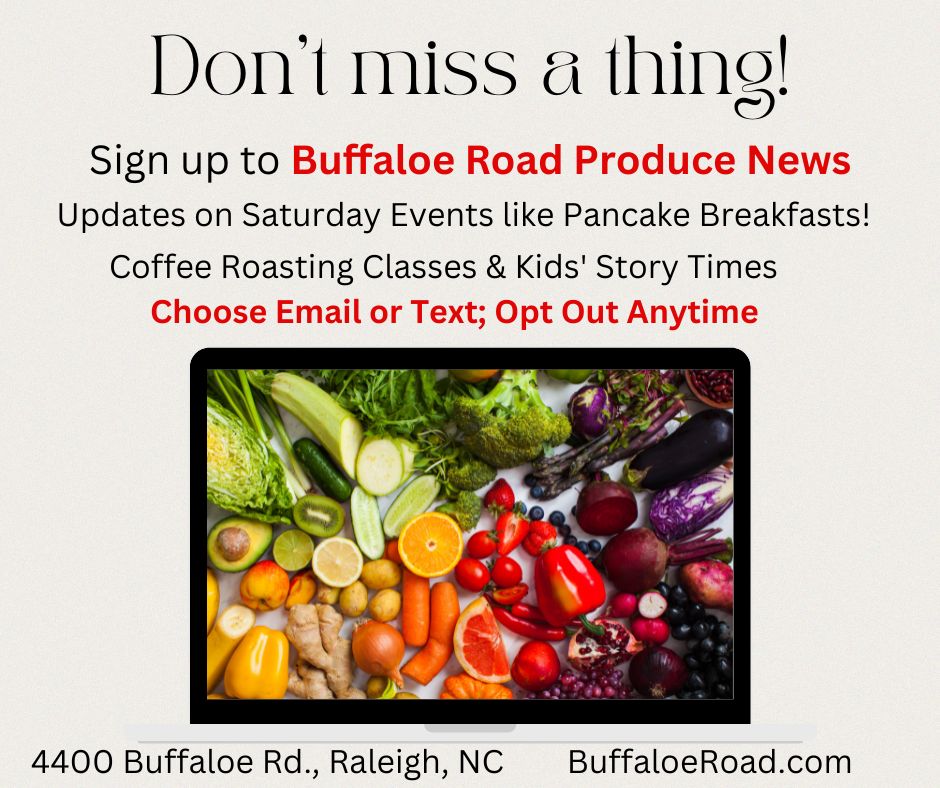 Sign up for BUFFALOE ROAD PRODUCE NEWS
Sign up for BUFFALOE ROAD PRODUCE NEWS for weekly updates by email or text. Opt out anytime.
Get the scoop on limited produce options and special features!
Know when we're open or closed – before you drive by!
Learn about interesting Saturday opportunities like: Pancake Breakfast; Coffee Roasting Classes; Kid's Story Time.
Two Free Seminars about Elder Care
Join us at the Bridge Cafe for two free seminars about Elder Care, hosted by Bill Burroughs. These informal presentations hope to answer some of the questions many of us have about caring for our elderly relatives – and considering what our own senior care scenario may be.
Bill is not selling anything – he just wants to make his 30 years in the business available to anyone who has questions. A Q & A session will follow the short presentation, so bring your questions for Bill to answer or address in future seminars.
Click to register to attend (this helps us with set up – it's free); you can still just stop by.
Bill Burroughs' experience in the field of eldercare started about 30 years ago when he began as an Administrator of an Assisted Living Facility. After nearly 10 years there, he was licensed to operate Nursing Homes in North Carolina which he did for about 20 years. Bill also set up and later was the Administrator of a Continuing Care Community. He was licensed to train administrators in Assisted Living as well as Nursing Homes and was selected to serve as interim administrator for facilities that were without leadership or were troubled and needed new direction. Bill has served on county committees and state regulatory committees to write and clarify rules and regulations. He retired in 2020 and still stays in touch with staff and owners of healthcare facilities.
For more information about the seminar or other workshops at the Bridge Cafe, contact [email protected] or Martha Poehler at 919-931-4228.
New "Poetry Please" Workshop at the Bridge Café!
Between Book Club sessions, on Tuesday evenings, after our Come To the Table meal, we're going to experiment with an 'in the room' conversation about a short story, piece of poetry, or other short reading.
Join us for a casual conversation about that night's reading.
We will read/listen to the evening's reading and discuss the subject, setting, crisis, and resolution. Join us and share your insights, perceptions, or self-discoveries.
4 week session – during the month of June. Tuesday evenings.
No cost. 7-8pm Sign up here or just come along.
Community Worship Service on Sunday, June 11th
Come one; come all! Join our community worship gathering on June 11th. Sunday night, 6pm. We will sing together, read Scripture, pray for our community, and talk about a story from Jesus' life. All welcome! If you love Jesus, enjoy singing (or just listening), care about our community, or would enjoy meeting some other folks in our wider community — join us on Sunday evening, June 11th at 6pm! First Alliance Church, 4400 Buffaloe Road, Raleigh, NC 27616. If you have any questions, please email Dan at [email protected]
Come learn to make greeting cards!
On Tuesdays: June 20 and 27. There will be two classes each day. One at 10am and one at 7pm.
Attend as many sessions as you wish. The fee is $4.00 for each card you make and all materials are provided.
Workshops will be in the education building at First Alliance Church. Please contact Vicki Strayer at 919 523 6218 or email [email protected] with questions. There will be a sign up sheet in the church lobby or click here to register.
BOYS IN THE BOAT – July Book Club at the Bridge
Our newest BOOK CLUB read is "The Boys in the Boat" by Daniel James Brown – about 9 American working class boys competing in the 1936 Olympics rowing event in Germany. (See complete description below.) We'll meet on three Tuesdays from 7-8 pm: July 11th, 18th and 25th – at the Bridge Café (4400 Buffaloe Rd, Raleigh) – All are welcome and you can reserve your copy on loan to read before the first meeting. They're available from June 15th. For more information, contact Book Club moderator Marty Poehler [email protected] or 919-606-2169.
THE BOYS IN THE BOAT by Daniel James Brown – Summary:
For readers of Unbroken, out of the depths of the Great Depression comes the astonishing tale of nine working-class boys from the American West who at the 1936 Olympics showed the world what true grit really meant. With rowers who were the sons of loggers, shipyard workers, and farmers, the University of Washington's eight-oar crew was never expected to defeat the elite East Coast teams, yet they did, going on to shock the world by challenging the German boat rowing for Adolf Hitler.
At the center of the tale is Joe Rantz, a teenager without family or prospects, whose personal quest captures the spirit of his generation—the generation that would prove in the coming years that the Nazis could not prevail over American determination and optimism.
This deeply emotional yet easily accessible young readers adaptation of the award-winning #1 New York Times bestseller features never-before-seen photographs, highly visual back matter, and an exclusive new introduction.
**No Dinner Tuesday, May 30th
Next Dinner is Tuesday, June 6.**
Come to the Table soup or salad entree meals at The Bridge Cafe
Tuesdays 6:00 – 7:00 PM
AT THE BRIDGE CAFE
Delicious meal and warm chance to talk with friends! Join us Tuesdays at 6 pm for a new soup or salad entree to share with friends. Suggested donation of $3, but not required.
Mens "Breakfast, Bible, and Bonding" Meeting
All men are invited to our new WEEKLY Men's "B,B & B" meeting (Bible, Breakfast & Bonding) every Saturday from 8:00 -9:30 a.m. at the Bridge Cafe (entrance to First Alliance Church.) Bring your own breakfast sandwich — and coffee and orange juice are provided. We're studying the Epistles of John. For more information contact Walker Armistead 919 – 812 – 2528 or William Stone [email protected] Hope to see you there!
Senior Special Breakfast
Thursdays 9:30 – 10:30 AM
AT THE BRIDGE CAFE
If you live near Buffaloe Road and are a Senior (or even if you're not) why not stop into the Bridge Cafe (at entrance to First Alliance Church at 4400 Buffaloe Road, Raleigh) for our Breakfast Sandwich for only $3 – every Thursday from 9:30 – 10:30 a.m. (The Cafe is open from 8:30 – 11:30 a.m.) Great bottomless coffee too
The Bridge Cafe Coffee Shop
Tuesdays-Saturdays 8:30 – 11:30 AM

The Bridge Cafe (at entrance to First Alliance Church) has great bottomless coffee and homebaked treats. New programs also include from May 2, 2023: TUESDAYS 6-6:30 PM – "Come to the Table" Soup or Salad Entree Supper ($3 suggested donation – not required) – followed by 7-8 PM Bible Study Workshop and Book Club. All are welcome!
In My Own Words:
This congregation amazes me with it's gracious service and mutual support. They don't just talk about loving, they work out their faith in real life. We are poised to demonstrate God's love to neighborhoods around us. I'm proud to walk in community with people who authentically want to discover how following Jesus impacts our families, friends and co-workers!
Dan Rothra
Pastor, First Alliance Church
Where are We?
4400 Buffaloe Road, Raleigh, NC 27616
We would like to thank e-Signs for their generous help with our signs at FAC Church! Visit them at https://www.esigns.com